The long-awaited return of London's hospitality sector has created a buzz of excitement in the capital. As lockdown restrictions eased on 12th April, restaurants and pubs opened their doors to customers for al fresco dining. Londoners can now eat and drink outside with up to six people, marking the beginning of a long summer spent socialising with friends and family.
Borough Market is world-renowned for its wide range of dining options, but as London's oldest food market, customers can also feast on its rich culture and heritage. Below, we've hand-picked some of the best places for you to make the most of the new normal, all of which are right on your doorstep.
Padella
Padella offers a simple menu of eight pasta dishes including tagliatelle, gnocci and ravioli. They combine traditional Italian techniques and flavour combinations with quality British produce. All pasta is freshly made in the restaurant, in keeping with the classic, homely Italian experience.
Location: 6 Southwark Street, London, SE1 1TQ.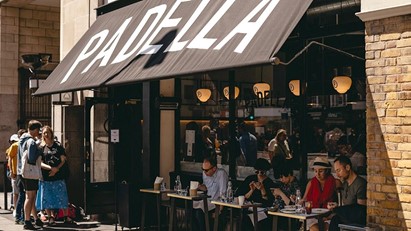 Rabot 1745
A short walk from Trinity Village, Rabot 1745 is the perfect place to catch up with friends over coffee. This restaurant, bar, café and shop is dedicated to cacao beans. Dishes are inspired by St Lucian cuisine and blend traditional Caribbean flavours with cacao to create a unique tasting experience.
Location: 2-4 Bedale Street, Borough Market, London, SE1 9AL.
Cartwright Brothers Vintners Ltd
The expansive range of wines at Cartwright Brothers Vintners Ltd. includes a 'chocolate wine' that is sweet, tasty and distinctive. Wines are sourced from independent estates around the world but are supported by a growing list of English options available for customers to taste.
Location: Borough Market, Borough High Street, London, SE1 1TU.
Gourmet Goat
For food packed with flavour and ethically sourced, Gourmet Goat is the perfect option. When the founders discovered that goat dairy farms sent their billy kids straight to be slaughtered, thus wasting the meat, they were appalled. This is what drove them to create Gourmet Goat. Their menu also includes delicious vegetarian eastern Mediterranean dishes.
Location: 41 Rochester Walk, London, SE1 9AF.
Roebuck Pub
The Roebuck Pub is a firm favourite among Trinity Village dwellers. The spacious piazza between Great Dover Street and Trinity Street is the perfect location for al fresco dining with lots of seating and tables outside for customers to enjoy their meals. Both the food and service are highly commended by Trinity Village residents, so be sure to pay a visit.
Location: 50 Great Dover Street, London, SE1 4YG
The last year has been incredibly difficult for us all, especially independent business owners. As we emerge from the Covid-19 pandemic, now is the perfect time to show your support.